A family shop, in a small town.
At Poor Boy Soles Bespoke Shoe Co. we do things differently. Nestled in Cobalt, Ontario, Canada, a National Historic Site, and the birthplace of hard rock mining; our shop is situated in one of the first bank buildings in Cobalt, set in place in 1905 during the Silver Boom. We use traditional techniques and tools to repair your items and make custom orders; many of our clients say it's like "stepping into a working museum" as our tools and equipment range from 1797 to the 1950s (and a few new modern day machines, you know... because).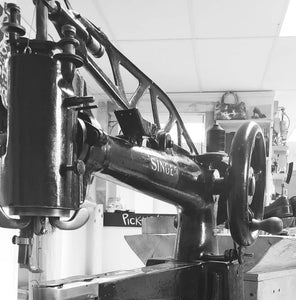 Made to Measure Footwear
Made to Measure Boots, Shoes, Sandals, Slippers, Moccasins, Mukluks, Orthopedic Buildups, and much more. Come to us with your ideas and let us make them reality.
Repairs
We repair - Footwear, Zippers, Packs & Purses, Jackets, Jeans / Denim, Orthopedic Buildups, Assistive Devices, Braces, Belts, PPE, Industrial Sewing Machines, Antique Sewing Machines, Snowshoes, Hockey Equipment, Skates, Baseball Gloves, Saddles, Harness & Tack, so. much. more.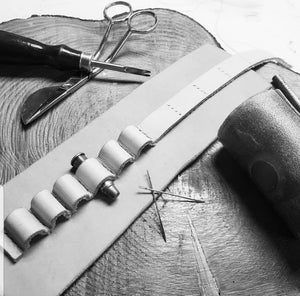 Custom Leather Goods
Custom Leather Goods - Gun Belts, Guitar Straps, Belts, Harness & Tack, Book Covers, Bags, Purses, Sacks, PPE, Knife, Axe & Hatchet Sheaths, Phone Cases, Wallets, Dice Bags, LARP Items & Armor, Gloves, Mittens, Apparel, Apparel Patches, Key Chains, Key Fob Cases, the list is only limited by your imagination. 
Testimonials
Thanks to Matt for the repairs to my 100,000 mile kitchen clogs and for the tabs on my boots. Matt, Dana, and their little girls are reviving part of our culture, with much appreciation from those who decry our modern throwaway culture!

Gerry B.
Just got my harnesses back today and totally loved the work. Thank you so much. My son took his dress cowboy boots and work cowboy boots and is more than satisfied. Thanks so much! Also, thanks for stretching his cowboy hat!

Becky M.
Just received my "Poor Boy Soles" custom shoes and I am very impressed. The process takes a bit of time, but Matt makes sure that you are always happy with the end product. Will definitely be ordering again, highly recommend.

Henry D.