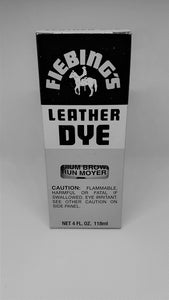 The most recognized penetrating, alcohol-based

 

leather dye

 

in the world. Dries uniformly and mixes easily to create interesting middle tones.
Available in Black, Light Brown, Medium Brown, Dark Brown, Yellow, Tan, Dark Red, Maroon, Russet, Red, Orange, Navy, Green, Cordovan, and many other colours added often. 
Available in 4fl oz, 1 LITRE and 1 GALLON bottles. 

Don't see the colour you want to order? - Send us an email, message us or give a call and we can order it in for you.